Testing Communication:
The easiest way of checking SLW communication is to look at the display of the controller (shown below).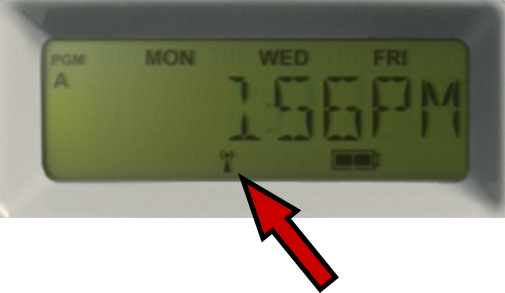 On the bottom of the LCD display is an antenna icon that shows the communication status of your weather station. No icon means that the controller is not connected to the weather station hub; to correct this ensure that the hub is firmly inserted and screwed into place. If the antenna icon is not animated, that means that the hub is inserted correctly but not communicating with the weather station. If the icon is animated, everything is working properly.
NOTE: There is a short delay (apx. 30 sec - 1 min) between the time when the weather station stops communicating and the icon changes.
You can also test connectivity by using the blink test. Click here for a video tutorial on how to perform a blink test.
To perform a blink test, you'll need to press down on the spindle on the top of the weather station and look at the bottom of the unit for the blinking LED lights. They will flash four times. The last blink shows the communication status. If it blinks green communication is established, while red means that it is not communication. If any of the first three LEDs blink red, you should contact technical support.
Testing the Micro-switch:
To test the micro-switch, simply press down on the top spindle while looking at the bottom of the weather station. If you see LED lights blink, the micro-switch is working properly.
Testing Rain Activation:
The weather station records a rainfall even once a sufficient amount of water has caused cork rings inside the unit to expand and trip the micro-switch. Over time this part can become worn out.
To test the cork, remove the top portion of the weather station by rotating the adjustment ring until the notch is in the middle of the rainfall measurements then pull it off. Allow the top portion to rest in water fully submerged for 15-30 minutes and then reinsert it. If it is working properly the micro-switch should trip and the controller will show that it is in rain delay. If the switch does not activate it will need to be replaced (part number SLW1DISCASSY).
NOTE: Testing this feature will cause the controller to enter rain delay, meaning the controller will not irrigate. To mitigate this you can temporarily turn off the rain sensing feature on the controller or set the rain delay to 0 days.