Smartlink Reports will allow you understand exactly what is happening at all of your sites.
You can access reports via the "Reports" tab.  
Once in the reports page, these are several settings you can customize to get the data you want.  We'll got through them one-by-one.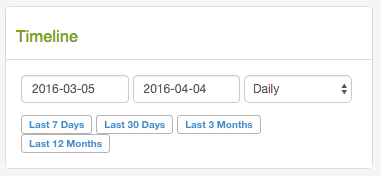 The Timeline section defines what date range, and grouping, your reports will show.  You can use the handy shortcut buttons to pick some pre-sets, or enter your own date range.  As the date ranges get wider, the timeline tool may automatically change the "grouping" from Daily to Weekly or Monthly, so that it's easier to see all the data points on the graph.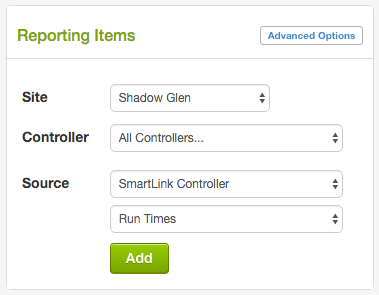 The Reporting Items section allows you to add new data sets to the report graph.  You can pick gallons, runtimes, deficits, or other data per controller, or per-zone, depending on what information you desire.  Hit "Add" to add this data set to your graph.  The "Advanced Options" tab will also let you change the graph type (line, or bar) or the color of the data set.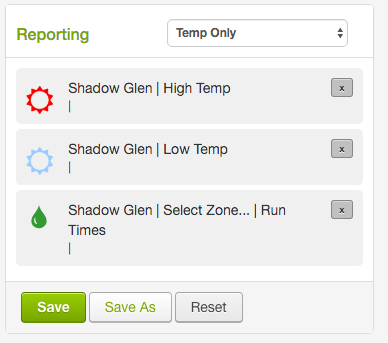 Once you add new data sets to the graph, they appear in the Reporting section.  This shows you all the data currently being printed to your graph.  You can save custom combinations of data sets to specially-named reports, which you can also recall with the drop-down at the top right of this section.  Hit the "X" to remove data sets.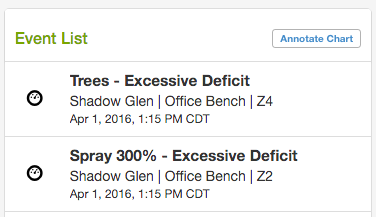 Sometimes it is helpful to see various faults or other events that have occurred on-site, and how that might impact runtimes or gallon usage.  You can view these events in the Event List section.  Hit "Annotate Chart" and events will be marked in the reporting chart, right alongside your runtime, gallon, or temperature data.

Lastly, at the top-right, you have options to Export All or Download CSV.  "Export All" will give you an excel spreadsheet of all your sites, and all the data associated with them, for as long as the unit has been connected to Smartlink.  This is the total raw data for your site.  Since this can be a lot of information, you will receive a notice that the report is being compiled and will be emailed to you.  This report usually delivers in 3-5 minutes.
"Download CSV" will give you a shorter version that just has the data presently displayed on your reporting chart.  This file will download directly, and can be easily imported to Excel.