Now that you have an active SmartLink Service Plan subscription, you may wonder how you can add or remove features, or even halt your subscriptions. 
How-To Video
Navigating the Page
To start the process, navigate to your Controller page. Click on "Admin" from the horizontal menu bar, and select "Manage Subscription" from the dropdown list. 

The Manage Subscription page also allows you to modify a controller's subscription. The options available for any given subscription may depend on how you paid initially.  For example, you can add or remove features with a subscription that is Auto-Billing. But, a subscription plan that was activated with a pre-paid plan card has a fixed feature set.
Explore the available subscription modifications by selecting the "Edit/Done" button located near the top right side of the page.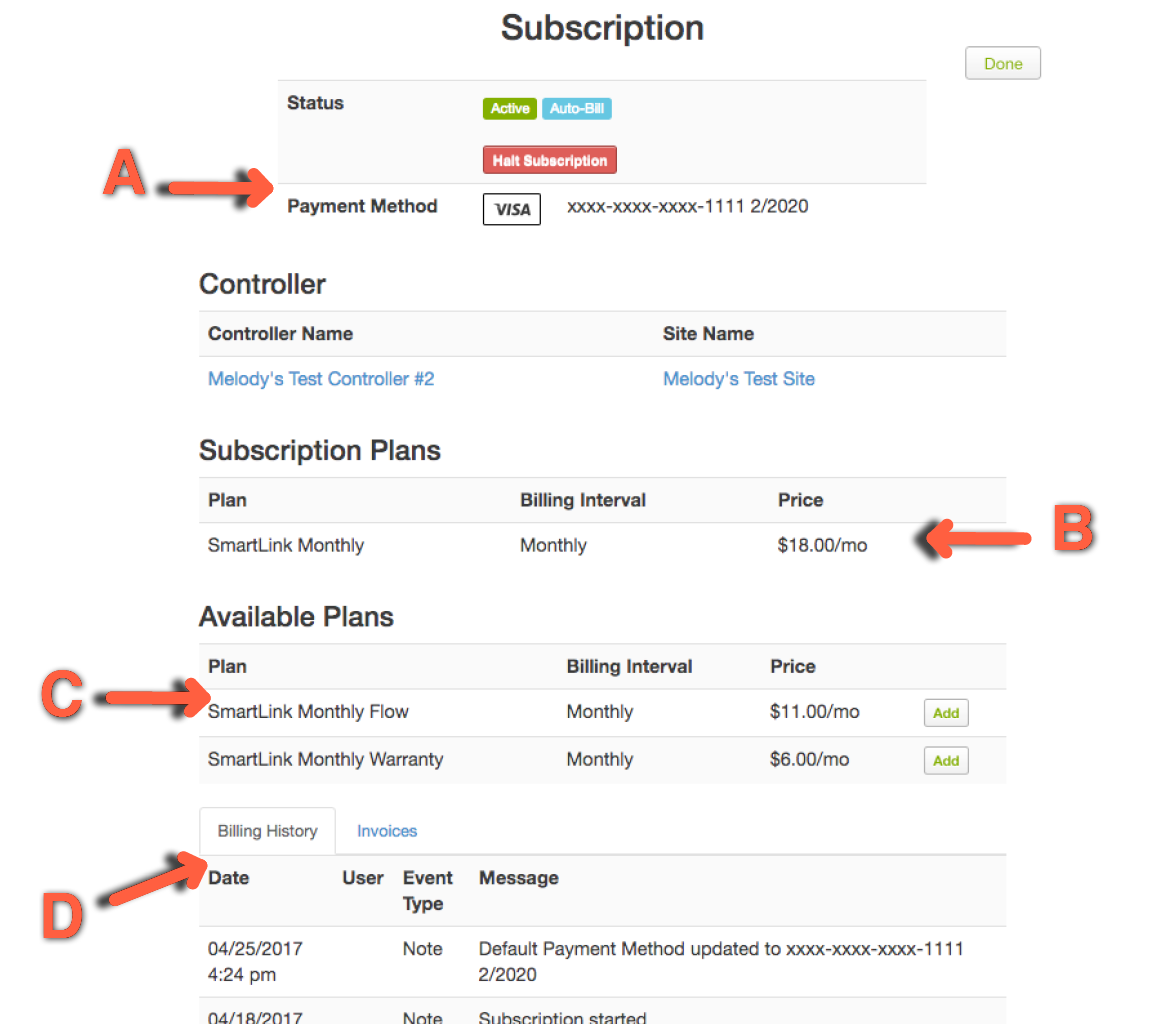 A.  Subscription Status and Payment Method
This example's subscription status is Active, set up for Auto-Billing, and paid for with a Visa credit card ending in -1111.
While in Edit mode, selecting the "Halt" button immediately stops your saved credit/debit or bank account from being charged. It's important to note halting a subscription stops your ability to access your controller in SmartLink Network. 
Editing the "Payment Method" grants the flexibility to change or add a new payment method. Any changes made here will occur on the next available payment cycle. 


B.  Subscription Plans
This example has a SmartLink Monthly Plan with a recurring charge of $18.00/monthly for basic SmartLink connectivity. If a subscription plan contains additional feature, those will be listed as additional subscription lines items. 

C. Available Plan Features
There are optional add-on features such as a warranty and flow services (only compatible with flow-aircards). Adding or removing these items will grant immediate access online, and increase or decrease the cost of your subscription on the next available payment cycle. If changes are made mid-billing period, the total will be prorated. 


D. Billing History
This tab offers a useful view of all billing-related subscription activity. 

E.  Invoices
The new SmartLink Network billing system also grants you access to view and download invoices from the Invoices tab located toward the bottom half of the page.